Whatever age your kids are, chances are there are times when they need to knuckle down and study. While encouraging them to do so may not be easy, you can ensure that there are no distracting influences by creating the perfect home-study environment for them to work in. Here's how.
Minimise the habits of distraction
TVs, computers and games consoles can all pose a tempting distraction to kids when they're doing homework or completing assignments so try and remove these from the occasion.
Set up their bedroom with suitable work surfaces and lights to get the job done (remembering to remove toys as much as possible) or integrate a study area into a quiet room of the house – kitchens or dining rooms work well as there is unlikely to be any TVs or other electronic distractions.
PCs can pose a particular problem where study is concerned, both facilitating and derailing it. The Daily Telegraph has commented on how children are now using the internet from the age of 3 years with kids spending an average of 2 hours a day surfing the web. While this can help with research and study, it can also put your child at risk of viewing unsuitable content. Setting up parental controls to block what they can access is a good idea and can help your little ones stay focused.
Temperature Control and Decor
Temperature control is just basic. Every home should have proper cooling or heating system. Your child may not feel comfortable if you do not have a proper heating system. So ensure that your heating requirements, such as heating oil (which you can easily order from the likes of romeosfuel.com) are set in place beforehand. Besides temperature control, the room decor also matters when it comes to creating a perfect home study. Having a window in the room that you have the desk in is a good option, as natural light will encourage a more energetic working environment. However, placing this window directly in front of the desk will cause those working here to become sidetracked – they may choose to stare out of the window more than at their exercise book or computer.
Try and keep windows to the side, even if offering a study environment in their bedroom.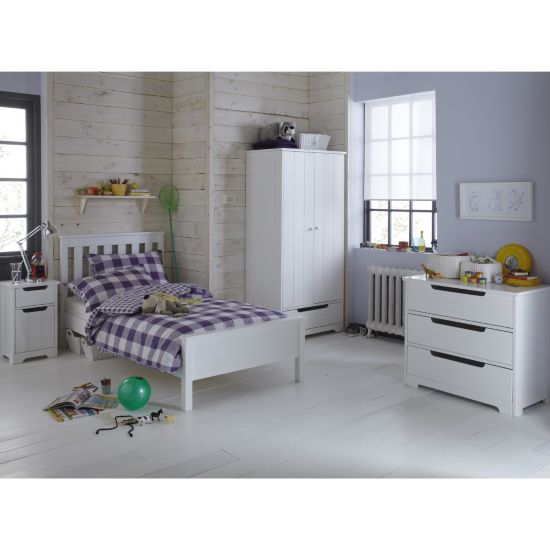 Colours are important too, so opt for clean whites and brighter accents. Lighting is also equally as important, so be sure to keep everything bright and airy with desk lamps, spotlights, pendant lighting, and maybe even neon lighting options from Neon Mama or similar companies. The colours and styles they have on offer can help to increase the mood of anyone who is looking to be productive, so this may be something you wish to consider too.
Create a reliable work space for study
Study tools have a great impact on the various behavioural aspects children learn. The desk area should be set up in a way that pencils, paper and pens are at hand. This means that your children won't have to spend a great deal of time thinking about how to prepare for study; they can quite simply get down to it.
With this in mind, it's wise to invest in children's furniture that caters to this ideal, such as a desk with drawers or compartments and a matching seat.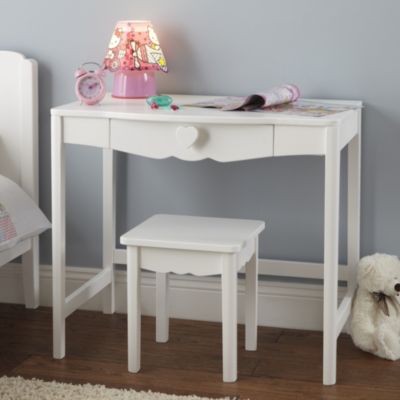 There are plenty of great childrens furniture options available at Sainsbury's which offer these benefits and can even double as a dressing table or play area when not being used for study
Prioritise sharing
If more than one individual is using the desk, assigning a drawer or compartment to each person is a great idea. If you intend to use the desk after your children have gone to bed or school, encourage them to keep it free from papers and ensure they always tidy away their study material so that nothing important gets lost.
Having a desk lamp is also a good option, especially if they intend to work after school hours. This is also the case for those that choose to set up a desk in a room that has a dual purpose. If you're working from one corner of the living room, having a harsh bright lighting filtering into the entirety of the room will create little ambience so keep things separate with lamps and dimmable lighting.
Find an effective location and posture for studying
It isn't uncommon to see a child working from a desk one minute and then on the floor the next. However, it's important to encourage individuals to sit with their back straight at a desk, rather than slouched over a computer on the floor as this can lead to posture problems later in life.
It's difficult to maintain the same amount of concentration when slumped on a couch or propped up in bed so make sure you build a conducive study environment for all to use
While some individuals find it easy to study with background noise, others prefer silence so do what you can to facilitate this. Let those who prefer noise listed to music (or better yet, audio-books or spoken study notes) while equipping silent studies with eat plugs to stop outside noises filtering through and disturbing their work patterns
You also need to make sure your kids don't study for too long and overwork themselves. According to the BBC, afternoon naps can actually aid learning in kids so giving them some respite from the books could do the world of good.
The study (which monitored 40 youngsters) found those who took a short nap recalled as much as 10% information than those who stayed awake the whole time so set a clear timeframe within which they should complete homework and study and reward their behaviour afterwards with some time watching TV or playing.